Central Gov't to restrict sale of regional debt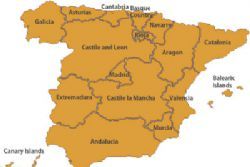 Spain plans to introduce a yield cap on the sale of debt sales by the regions which are not getting funding from its regional liquidity mechanism, a spokesperson for the Ministry of Economy and Finance told the press earlier today.
The Central Government intends to stop regions from further borrowing when the premium paid is more than 100 points higher than the cost of debt issuance for the country as a whole.
The last such sale of regional debt saw Madrid sell €1bn of debt ealier this month on a 5-year bond 190 basis points higher than a similar bond sale of the Spanish Central Government.
The cap is not yet in place, and is still to be officially approved by government, the spokesperson said.
Up until now, a total of 9 Autonomous Communities have so requested financial assistance from the government through its regional liquidity fund, forcing the government to increase the fund to €23bn in 2012, up €5bn from the amount budgeted for 2012.
The Government granted a request for 4 regions to issue bonds and take out long-term loans earlier this week.
Galicia will be able to raise up to €1.02bn this way, while Madrid is permitted to borrow up to €2.27bn. In the north, the region of Aragon can raise up to€391m, and Navarra €261m.