6 Earthquakes hit Valencia in 24 Hours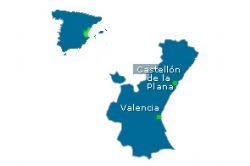 A total of 6 Seismic activities have shook the Town of Silla, 20kms to the south of the City of Valencia since Tuesday morning.
The Earthquakes ranged from 2.1 to 2.7 on the Richter scale, and were recorded at depths ranging from 6 to 12Kms.
Whilst the Richter scale is used to determine the energy produced by seismic activities, the Moment Magnitude Scale is used to measure the physical effect that quakes have on the surface. This means that a an Earthquake with a very high Richer number, but at a great depth, may not be felt on the surface, whilst a low Richter quake at a shallow depth may be felt.
Spain's National Geographic Institute (IGN) reports that 5 of this week's 6 events were felt by residents on the surface, measuring between II and III on the MMS - the most recent occurring shortly before 06.00 am this morning.