Spain romps ahead with above-target debt sale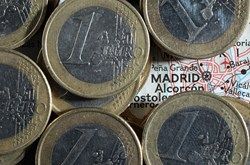 Spain sold more bonds than it had targeted in its third debt sale of the week on Thursday, as the Treasury makes the most of a recent easing in investor concerns despite a deep and prolonged recession.
Madrid has now sold almost a quarter of its target amount of medium- and long-term debt for the whole of 2013, as the ECB's pledge to support the euro zone bolsters demand.
The Treasury sold €4.2 billion of debt due in 2015, 2019 and 2023 compared to a target range of €3 - €4 billion.
The auction was the Treasury's 3rd sale of sovereign debt in as many days, after it hit the top end of its target in a short-term paper sale on Tuesday and shifted $2 billion on Wednesday in its first dollar-denominated debt since 2009.
"This is a strong set of results and continues the theme of decent demand for Spanish debt that was demonstrated by their first dollar issuance for 3 years (on Wednesday)," said Lyn Graham-Taylor, strategist at Rabobank in London.
"We still believe this to be largely driven by the large amount of central bank liquidity in the system rather than an improvement in the fundamentals of Spain and major progress towards fiscal union being made by the Eurozone."
The premium investors demand to hold Spanish over German debt dropped by around 7 basis points after the auction to around 350 bps, a long way from over 650 bps just 7 months ago.
Spanish debt costs surged last July on fears of a breakup of the euro zone, but a pledge by the ECB to protect the monetary union has lured investors back to the high-yielding paper.
The bond due Oct. 31, 2019, last sold at the height of worries over the euro zone economy, auctioned on Thursday at an average yield of 4.275%, almost 2.5 percentage points lower than yields paid at its last outing in July.
The Treasury sold €548 million of the bond, which was 2.5 times subscribed.
The benchmark bond, with maturity at Jan. 31, 2023, and a coupon of 5.4%, sold €2.6 billion at a yield of 5.202% in its first auction since its introduction Jan. 22.
The bond due March 31, 2015, sold €1.1 billion at an average yield of 2.540%, compared to 2.823% when it last issued on Feb. 7. The bond was 3.7 times subscribed after 2.2 times earlier this month.