Spanish Authorities Seize 7'000 Horseburgers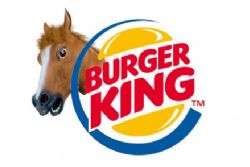 Earlier today the Spanish Authorities impounded a shipment of 7'000 "Beef"Burgers in the Canary Islands due to them being found to have an undisclosed content of Horsemeat.
The one-tonne shipment was bound for distribution to dozens of cafes and restaurants across the Islands, and are understood to have been sourced from a Valencia-based distribtion company, who in turn purchased them from an Irish food processing company.
The Horseburgers were intended for sale in catering establishments such as hotels and restaurants - many of which are popular with tourists - but not for sale in shops.
This is the first such action taken by the Spanish authorities, however earlier this week the World's largest food manufacturer, Nestle, voluntarily withdrew thousands of "Beef" Pasta meals from sale on Supermarket shelves in Spain and Italy. Spain seems to have resisted the scandal that has been caused by allegations of Horsemeat being sold as a Beef substitute in many mass-produced convenience foods up until this point.