Iberia and Unions agree to mediation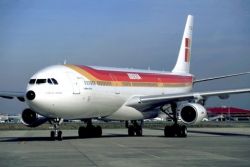 Spain's Minister for Public Works,Ana Pastor, announced today that Iberia Airline management and labor union representatives had agreed tomediation in order to help resolve their dispute over planned layoffs, which has sparked a series of one-day stoppages by ground staff and cabin crew.
Pastor said the professor of private, social and economic law at Madrid's Autónoma University (UAM), Gregorio Tudela, will act as the mediator in the conflict sparked by the loss-making airline's plan to sack some 3,800 workers, about 19% of its workforce. His conclusions, however, will not be binding for either party.
The appointment of Tudela followed a brief meeting between labor leaders and Iberia management on Wednesday, which a UGT union official described as a "farce."
Iberia ground staff and cabin crew commenced a five-day stoppage on Monday, which has forced the cancelation of some 1,200 flights by Iberia and other carriers that use its handling services. Further strikes are planned in the period March 4-8 and March 18-22, which the pilots' union Sepla plans to join. Sepla representatives are due later Thursday to meet with the management.
Some 280 flights were canceled today, including 87 by Iberia, 19 by its low-cost carrier Iberia Express, 95 by Air Nostrum and 79 by Vueling.