Spanish Judges Protest Over Law Reforms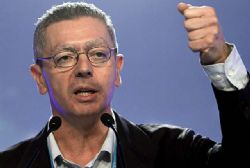 Thousands of Judges and Prosecutors failed to show up for work across Spain yesterday in protest over an unpopular series of recent reforms undertaken by Spain's Minister for Justice, Alberto Ruiz-Gallardón.
Many gathered outside the main doors of the country's courtrooms to voice their protests over such diverse issues as disproportionate new legal fees, the elimination of locum judges and the proposed reform of the CGPJ legal watchdog.
Official data from the CGPJ put turnout among judges at 40.23% - 2,013 out of 5,015 magistrates - while strike organizers gave a figure of 66%, though that included both judges and prosecutors.