Spain regions could see debt markets door closing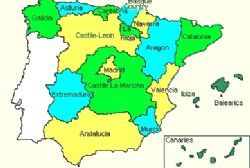 The last Spanish regions still able to fund themselves without state help could now be shut out of markets due to proposed rules that would impose a yield cap on any new issuance of debt.
The proposed cap of a 100bp premium over the sovereign would effectively block many regionals, which have been faced with falling tax revenues, from issuing more debt to compensate.
Not one of Spain's Autonomour Regions has bettered the proposed target on a public bond deal in the last 3 years.
"At the moment, investors simply won't be interested in these names at these levels," said a Madrid-based banker covering Spain's regions.
The current cap is 250bp, leaving enough room for pick-up to catch the eyes of yield-starved international investors willing to take a punt on the beleaguered sovereign.
Amid massive unemployment and declining tax revenues, many of the regionals are seen as having over-leveraged themselves in an issuer-friendly credit environment.
Capital region Madrid last month raised €1bn with a 5-year bond that offered a hefty 190bp pick-up to the sovereign - one of the largest deals from a Spanish regional in years.
In fact, according to a government source, the sovereign's decision to issue a dollar deal this week was partly influenced by strong US interest in regional debt so far in 2013.
CATCH-UP TIME
But while it iis unclear how long it might take for the legislation to take effect, there are already signs that pricing might not take too long to catch up to the new target.
According to bankers, some small retail investors have purchased the new Madrid bonds in the secondary markets at just 80bp over BONOs.
While the syndicate official said this would not be enough flow for a new public deal, smaller private placements - which usually price 10-20bp tighter than public deals - could work.
Catalonia was the last Spanish region to better the 100bp cap, issuing an €850m 5-year bond in March 2010 that priced at around 90bp over the Spanish curve.
But recent issuance by other Spanish sub-sovereign credits suggests the new target yield cap may not be completely untenable.
The government-guaranteed Electricity Deficit Amortisation fund (FADE) managed to issue a €1bn March 2017 bond at 53bp over the Spanish curve last month.
And state-owned bank ICO followed that up swiftly with a long 7-year bond that priced just 40bp over Spain.
Naturally, investors will always demand a liquidity premium to purchase regions over such names.
CENTRALISED FUNDING
The proposed new legislation, confirmed by a finance ministry spokesman on Wednesday, would affect eight of Spain's 17 autonomous regional governments.
The other 9 are signed up to the government's regional liquidity fund, a centralised funding scheme for those regionals that cannot issue under the limit or that request a bailout.
Spain has budgeted €23bn to cover all of the financing needs of its regions in 2013, which is factored into the national funding target of €121.3bn via bonds and long-term loans.