Spain to adopt new measures on Pensions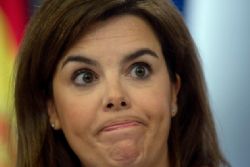 Spain's Deputy PM Soraya Saenz de Santamaria on Friday said it was important to adopt new measures to reform the country's public pensions system.
"Regarding pensions, we need to keep working on this issue... Now the moment has come to reach a deal and implement new measures," Saenz de Santamaria said at a news conference following the weekly cabinet meeting.
The European Commission said on Friday Spain would miss by a wide margin its deficit goals for 2013 and 2014 unless it adopted new, tough structural measures.
Although the Commission did not specify the measures it wants the country to implement, a reform of Spain's public pensions system is one of its long-standing demands.
Elsewhere this week the ECJ ruled that Spain's Pension system was already in breach of EU law and discriminating against Expats in particular.