Thousands to Protest across Spain on Saturday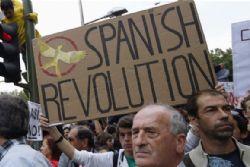 Thousands are expected to attend demonstrations in towns and cities across Spain today in protest over harsh austerity and the way the country's being run in the wake of its financial crisis.
The movement has been named the "Marea Cuidadana" (Tide of Citizens) and has been widely supported by a number of different unions.
Twitter hashtags trending earlier morning included #MareaCiudadana, #F23 and #YoVoy23F as organisers have turned to the social media networks as a means of gathering support and promoting their cause.
Organisers have also confirmed how protesters overseas plan to congregate outside Spanish embassies in different countries.
The anger of many protestors is centered around the Governments reaction to the worsening economic climate - including the series of unpopular austerity measures and an unemployment rate which currently stands at 26% - the highest level ever recorded.
Property evictions and foreclosures are also increasing as thousands are left struggling to pay their mortgages.
The 14 Months of Rajoy's tenure as Prime Minister have now seen more public protests, demonstrations and strikes than the 8 year administration of his predecessor, José Luis Rodríguez Zapatero.