Ryanair slash Spanish routes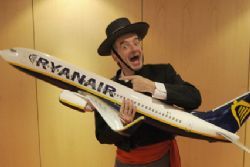 Ryanair has promised to act on threats to cut flights to and from Spain in protest at increased airport taxes.
As from the end of March, Ryanair will reduce its Spanish flights by 12%, with the majority of cuts being made to operation at Madrid-Barajas and Barcelona-El Prat.
Further cuts have been planned for Seville and Valladolid airports, but routes to Asturias and Bilbao have been stopped altogether.
In a press statement, Ryanair said the reductions will result in 5,000 job losses and that it will see a loss of around 5.4 million passengers.
In 2011, Ryanair was Spain's biggest domestic carrier, according to the government's own statistics.
The company threatened such action last November, but it said that the decision is reversible if the Government changes its position on the imposition of the taxes.
Last year Spain's airport taxes increased by an average of 19% last year, however taxes at the 2 busiest airports - Madrid and Barcelona - increased by almost 50%. A further 8% tax is also due to be applied in 2013.
AENA insists the increases are justified and within the law, has applied the taxes in a bid to combat debts of almost €14 Bln.
Last year AENA also revealed how 37 of their 47 Spanish Airports lost money in 2011.
Ryanair has had a strained relationship with AENA over recent months. Towards the end of last year, Spain's Minister for public works announced plans to lobby European authorities for tougher action against foreign airlines who fail to comply with safety regulations.
Although she did not name any airline in particular, it was clear that she was referring to Ryanair, who were the subject of numerous complaints by AENA last year alone.