52% see corruption as worst part of Spain's image abroad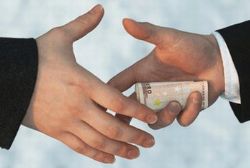 A recent poll by the Elcano Royal Institute has found that 52% of Spaniards consider political corruption as being the worst part of Spain's image, as perceived by other countries.
A further 19.1% of those surveyed believed the high unemployment rate and poverty as the most negative aspect of the country's image overseas.
The 1,000 Spanish citizens surveyed during the first two weeks of February identified Spain as being the most corrupt country.
The report also revealed how 88.4% of Spaniards also believe that their country's image abroad has not improved over the last month, though 59% have a positive view of the government's "Brand Spain" drive to promote the country abroad.
Some 47.9% of respondents under the age of 45 have given serious thought to emigration - which increases to 67% for those under the age of 30.
The report also show the vast majority of likely emigrants being University graduates, highlighting a worrying drain on the country's skill base for future years.
In December an annual report by Transparency International named Spain as being the most corrupt member of the EU .