EU warns Spain on telecoms regulator merger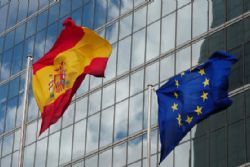 The European Commission could start disciplinary proceedings against Spain to ensure its telecoms regulator remains independent if combined with other government agencies as part of Madrid's cost cuts, the EU telecoms chief said on Monday.
Neelie Kroes, the EU commissioner who oversees digital technology, said she could take legal action against Spain unless it modified its plans for the regulator.
Burdened with high debt and a large budget deficit, Spain is finalising a proposal and draft law to combine sector and industry regulators with the competition commission.
But the proposal has fuelled concerns in the European Commission that this could undermine the Spanish telecoms regulator's independence.
Kroes said in a Feb. 11 letter to Spanish Industry Minister Jose Manuel Soria, obtained by Reuters, that changes put forward by Madrid to allay such worries were not sufficient.
"They do not yet ensure the independence of the national regulatory authority and the attribution of the necessary competences for it to ensure effective and impartial regulation of the electronic communications sector within the (EU) single market," Kroes wrote.
"Unless the adopted and planned legislation is amended, I can see no other way forward than to propose to the Commission to open infringement proceedings," she said.
The EU executive can take member states to the Luxembourg-based European Court of Justice if they fail to comply with the bloc's rules, and this process can result in fines.
Kroes said she hoped to discuss the matter with Soria at a meeting in Barcelona on Tuesday. The Commission's competition, energy and economics units are similarly worried about the Spanish plan, which would bundle regulators from those sectors together with the telecoms body.