Spain "worried" by deadlocked Italy vote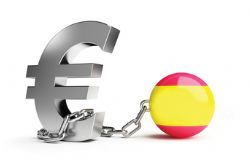 Spain said it was extremely worried about the impact of Italy's deadlocked election result, warning on Tuesday the deadlock could affect the entire euro zone.
Foreign Minister Jose Manuel Garcia-Margallo said there was a feeling of "extreme concern" over possible movements in bond spreads as a reaction to the results.
"This is a jump to nowhere that does not bode well either for Italy or for Europe," Garcia-Margallo told journalists on the sidelines of a conference in Madrid.
The Spanish government said it was monitoring the situation, especially the fallout on financial markets as the premium investors demand to hold Spanish 10-year debt rather than the German benchmark jumped to 393 basis points, a level not seen in several weeks, when it emerged a cabinet could be hard to form.
Spain's blue-chip index Ibex was down 2.87% at around 0900 GMT.
Economy Minister Luis de Guindos said Spain had a strong liquidity position and could cope with market jitters after the Spanish Treasury sold close to €11 billion of debt last week.
"We will see how the situation evolves. We hope there will be a stable government. What is good for Italy is good for Spain," De Guindos said on the sidelines of an event in Madrid.
"In the end, the political will to carry out the policies that are needed to get Europe out of its crisis will prevail," he said.