Spaniards call for change in mortgage law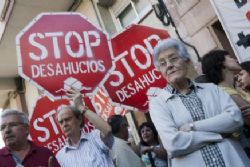 The struggling Spanish economy and ailing properrty market has seen a number of suicides as the mortgage foreclosures has reached record levels. Last weekend tens of thousands of Spaniards from 50 cities took to the streets in protest over such forced evictions as a result of a 100-year-old eviction law.
A petition of 1.5 Million signitures was raised in demand for the current mortgage laws to be changed, and for Parliament to cancel outstanding mortgage debts when propertis are returned to the Bank.
The law currently states that a complete repayment of all outstanding debt should be made - even after the home has been repossessed. €40 Bln has already been pumped into Spanish banks, and yet banks still force mortgage evictions for those in arreas, and argue that if the law is relaxed many borrowers would lose incentive to keep up their mortgage payments.
Since the collapse of the property market in 2008 an estimated 400,000 have been served eviction notice, whilst the value of all morgages stands at 70% of all household debt.
The protests led by lawyers, activists and political opponents are denouncing forced evictions and claim that the government is not doing enough to protect consumers, as the law violates a homeowner's chance to legally argue an eviction in court until after they have been forced from their homes.