PSOE "went too far" with Santander pardon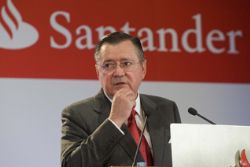 Spain's former government overstepped its powers by scrapping Santander chief executive Alfredo Saenz's criminal record in 2011, according to a Supreme Court ruling that partially overturned his pardon.
The court's ruling, which it published in full on Tuesday after deciding to reinstate Saenz's criminal record two weeks ago, is the latest twist in a long-running case that could possibly see the CEO barred from banking or sanctioned.
Spain's Supreme Court blasted the former socialist government of Jose Luis Rodriguez Zapatero - which approved the pardon in its last cabinet meeting before leaving office at the end of 2011 - for pushing its powers too far when it forgave Saenz, convicted in 2009 for false accusation against debtors.
"It was more than the simple pardon of the sentence ... there was an intention to eliminate whatever problem or obstacle there could be to the exercise of the banking profession derived from the existence of a criminal record," the ruling said.
Spain's rules on banking ethics, which define the criteria by which bankers are deemed to be fit and proper, would in most cases bar a person with a criminal record.
Saenz must now bear the consequences of his criminal record, even though the cancellation of his 3-month jail sentence still stands, the Supreme Court ruled.
"Taking the pardon any further is not only against the law relating to pardons but is also against the constitution," the Supreme Court said.
The Bank of Spain, which will have to settle the fate of Saenz, 70, has yet to say anything on the case and declined to comment on Tuesday.
Rules on banking ethics, which date back to 1995, are set to change shortly. Spain is in the process of adopting new ones that would give the Bank of Spain the final say when deciding whether someone can be a banker or not, effectively giving it more flexibility.