Vueling profit triples on increased market share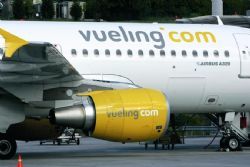 Spanish low-cost carrier Vueling , the target of a takeover bid from Iberia, reported on Wednesday net profit of €28.3 million for 2012, three times what it earned in 2011.
Vueling, which said last month it was taking market share from flag carrier Iberia, said its traffic grew last year despite decreased travel in and to Spain. The Barcelona-based carrier also took on new routes and airplanes after its rival Spanair shut down.
Iberia already owns 46% of the no-frills airline.
In December last year IAG (International Airlines Group) - the parent company of both British Airways and Iberia - announced plans to acquire the remainder of the 54% shares in Vueling that they already hold.
Banco Santander has agreed to guarantee €113.4 million to cover the cost of the transaction, or €7 per share targeted, London-based IAG said.
Meanwhile, Iberia Airlines - which made a €262 Million loss in the first three-quarters of 2012 alone - is battling with a falling market share as strike action over 4'500 forced redundancies continues to see flights being cancelled.