Bank of Spain predicts further economic contraction through 2013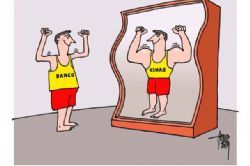 The Bank of Spain announced earlier today how they expect the country's economy to continue to struggle as domestic demand, construction and investments remain weak in teh first quarter of 2013.
Although statistics are still being gathered, evidence points to "a continuation of the contraction of activity, in a context of marked lethargy of internal demand", according to the Bank's end of month commentary on the economy.
Spain's GDP shrank 1.8% in Q4 of 2012, leading a number of analysts to expect the economy to continue to shrink for 2013.
Consumer spending in areas such as retail sales, have also continued to plummet in the early months of 2013, while investment and industrial spending are also struggling to show any positive signs.
However, exports are leaving some hope for optimism, with the Bank of Spain reporting how Customs had seen a slight increase in exports in December compared with a dip in November.