Spain in stand-off with Europe over Bankia valuation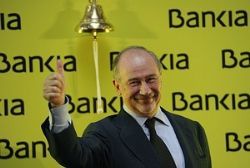 Spain is at odds with the European Commission over how much shareholders will lose in a rescue of nationalised lender Bankia, sources familiar with the talks said, delaying the next phase of its bailout.
The discussions over a few cents per share are key to determining by how much the value of shareholders' stakes - including those of hundreds of thousands of small savers - will be reduced when Bankia gets a €10.7-billion capital injection from European funds.
They are also vital for Bankia, which wanted to seal the details of its recapitalisation in January and focus on rebuilding its business.
The bank - a merger of 7 savings banks that were highly exposed to the property sector that crashed 5 years ago - became the focus of Spain's banking crisis when it asked for a massive bailout in 2012, pushing Spain to request €40 billion in European aid for a number of troubled banks.
Bankia is expected to report a loss of more than €19 billion for 2012 on Thursday but projects a return to profit this year and aims for a net profit of €1.2 billion by 2015.
Bankia is unlikely to unveil the new price of its shares with its annual results, 2 of the sources said.
Arguments with Europe are still centred on the price at which the conversion of the aid into new shares is set.
Brussels wants Bankia valued at a minimal €0.01 per share while Spain wants to soften the blow for investors and is pushing for a slightly better valuation of €0.1 per share, 4 sources familiar with the talks said.
Setting the price at €0.01 would leave shareholders with 0.13% of Bankia's capital while a €0.1 price would give them 1.3% of the bank.
The cash difference for Bankia's shareholders, including Spain's bank restructuring fund FROB, would be no more than €180 million, according to Reuters calculations.
FROB, Bankia and the European Commission declined comment.
A MATTER OF PRINCIPLE
Though nothing has yet been fixed, several of the people close to the discussions expected Brussels to win out, and for a price to be announced by the end of March as paperwork and audits are finalised after Bankia's results.
The Commission believes it is a matter of principle and Bankia shareholders should get the same treatment as those of another state-rescued bank, Banco de Valencia, who saw their shares valued at €0.01.
"I don't think the government or the FROB have any chance to win that one. The Commission has made it a question of principle and right now they are the ones who decide," a 5th person with knowledge of the discussions said.
One of the sources said the debate was "slightly absurd" because the shares will be worth zero or close to zero anyway.
But setting the share price at €0.01 would hurt many of Bankia's clients.
Around 350,000 small time investors, who hold 52 percent of Bankia, bought shares in its initial public offering in 2011 after an aggressive marketing campaign on television and in bank branches all over the country.
The government fears that imposing such steep losses on small savers could prompt more public anger at a time when hundreds of thousands of people have already seen part of their savings vanish as losses are imposed on the debt they hold at nationalised lenders.
Once Bankia gets its European capital injection, it will exchange preference shares and subordinated debt for shares with discounts ranging from 14-46% in order to raise up to €6.5 billion worth of capital.
Bankia will be around 31% owned by minority shareholders once all debt-for-equity swaps are complete, according to Reuters calculations confirmed by one source.
The rest will remain in the hands of the state.
Bankia shares were trading at €0.31 a share at around 1530 GMT, nearly 92% less than the €3.75 at which the bank was listed.