Expats' pensions worth 8% less due to falling pound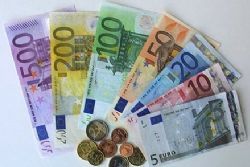 UK Expats living in Europe have found that their pensions are worth 8% less due to the state of the pound.
Analysis carried out by the deVere Group shows that a basic state pension that was worth €577.37 (£495) a month in January is now worth €530.81.
At the pound's highest rate against the euro back in 2008, it was worth €597.41.
Nigel Green, deVere Group chief executive, said: "More than a million Britons who live abroad, receive the state pension and these people - unless they've set up a system to transfer their pension at a fixed exchange rate every month - will be worse off each month because of the weakening pound."
He went on to say that the pound has now hit a 16 month low against the majority of the largest currencies and dropped eight per cent against the euro since the beginning of 2013.
Mr Green said: "Naturally, Britons living in Europe and receiving a fixed income through their pension are particularly adversely affected by this."
The chances of the Bank of England and the government pushing the pound higher are very slim and without that assistance it is unlikely to rise in the near future.
If the pound were to fall to €1.11, which is feared by many, then expats receiving the state pension would lose out on €60.46 a month, a total of €725.52 over the course of the whole year.
Anyone living abroad on the state pension is advised to speak with a financial advisor about the best ways to mitigate the effects of a depreciating pound.
Otherwise expats will need to tighten their belts and cut back on luxuries in order to make their pensions go further.
Anyone heading out to visit expats abroad will also need to shop around to get the best deals on foreign currency as the problem extends to holidaymakers too.
Click here to read More News Stories by Expatriate Healthcare?