Pastor Slams PSOE for waste at Castellon Airport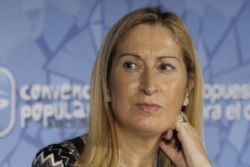 Ana Pastor, Spain's Minister of Development, has criticized the former PSOE Government in exacerbating the "wastefulness of pedestrian airports". This is despite the worst culprit - Castellón airport - being approved by the Partido Popular, and the President of the company behind the airport being a former Provincial PP President.
Pastor's comments were made directly to the PSOE Member of Parliament, Rafael Simancas, who had alleged that the presence of PP Politicians on the board of such airports represented a conflict of interests.
The Minister went on to blame the Socialists for driving the network of state-owned airports close to bankruptcy, with debts of almost €14 Billion.
In return, the PSOE were not slow in reminding the PP of yesterday's news that the deadline to complete the sale of Castellon Airport had been extended until the end of March - almost 2 years to the days since the inauguration of the facility.
Read further Castellon Airport news by clicking the link >> HERE <<.