Paramount Murcia Construction : Cue the excuses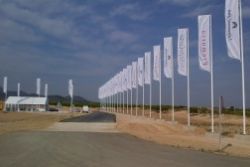 Officially, the latest statement by any representative of the regional government of Murcia is that construction work for the Paramount Pictures Theme Park will commence on February 28th.
The Regional Minister for Culture, Pedro Alberto Cruz, originally announced that work was to commence on the 15th of January , however this deadline was extended by 6 weeks to allow time for the Ayuntamiento of Alhama de Murcia to approve changes to the project.
Changes to the original footprint of the park had to be submitted after it was revealed that around 325'000sq mts of the land originally earmarked for the park fell in a protected area of a neighbouring natural park.
Under normal circumstances this would not have been an issue however the original footprint had already been reduced by some 30% following problems obtaining all of the land in February 2012.
However today, as was perhaps to be expected, the Mayor of Alhama de Murcia announced that approval was not likely to be granted for a further few weeks.
Apparently it came as some shock to those involved with the project that the land carried the "protected "status, as it had only been in place for around 50 years....
Needless to say, construction at the Paramount Murcia theme park will not be commencing has planned on the 28th. You never thought that it would though - did you ?