Iberia Airline owners post €1 Bln loss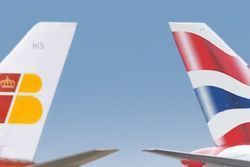 International Airlines Group (IAG) – formed by the merger of British Airways and Iberia Airlines in 2011 – has today posted losses of €997 Million.
BA made an operating profit of €347 million in a year when it bought and integrated regional carrier BMI, but Iberia made a loss of €351 million .
CEO Willie Walsh said the results emphasised that Iberia "must adapt to survive" but, despite 3 months of negotiations, no agreement on a way forward has been reached between the airline and its trade unions.
The results also mean that IAG will move forward with a 15% reduction in capacity, pay cuts and a redundancy programme that will affect 3,807 Iberia jobs.
Walsh commented: "It must stem its cash losses and adjust its cost base permanently if it is to compete with other airlines in all its strategic markets and lay the foundations for profitable growth in the future."
He added that BA was seeing the benefit of structural change as it achieved a "solid" financial performance in 2012, helped by a strong London market.
Leaving aside the costs of restructuring Iberia, IAG's operating losses of €68 million were better than its expectation of €120 million losses in November. Shares rose 4% today as a result.
BA's passenger revenues grew by almost 9% last year, despite some weakness over the Olympic and Paralympic Games period.
Across the group, fuel costs rose 20% to €6.1 billion.