Repsol 2012 profits slide following Argentinian nationalisation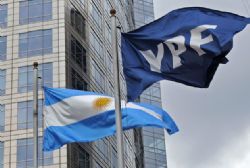 Spain's Repsol YPF reported 6.1% lower IFRS net income of €2.06 billion in 2012, compared with €2.19 billion the previous year, with annual net income from continuing business continuing 14.1% to €1.89 billion, from €1.66 billion last year.
At current cost of supply, excluding the change in value of the oil inventories that the company stocks as part of Spain's strategic reserve, net income went up 5.4% year-over-year to €2.05 billion, including YPF for the whole period.
Recurrent net income, excluding YPF, was €1.97 billion this year, a 24.5% growth, compared with €1.58 billion in the comparable period in 2011.
The firm clocked operating revenue of €59.59 billion for the year, up 26.6% from the year ago's €52.64 billion. Production climbed 11% during the year, with significant increases in Bolivia, Libya, the United States, Spain and Russia, according to the company.
This news came following the company's YPF operation in Argentina being nationalised for a nominal sum during the course of 2012.