Regions just miss deficit target for 2012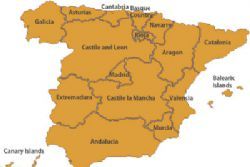 Despite massive cuts in spending in education and health, Spain's regions just missed their deficit target for last year but sufficiently improved the state of their finances to allow the public administrations as a whole to also come close to their projected shortfall.
In a presentation of the budget execution figures for 2012, Finance Minister Cristóbal Montoro said the regions booked a deficit of 1.73% of GDP, compared with a target of 1.5%. PM Mariano Rajoy said the previous day that the shortfall for the public administrations was 6.7% of GDP, compared with a figure agreed with Brussels of 6.3%.
Montoro said 10 out of 17 regions met the 1.5% target, with only Valencia (3.45%) and Murcia (3.02%) booking a shortfall of over 3.0%. The best performances were by Extremadura and Madrid, which posted deficits of 0.69% of GDP and 1.07% respectively.
The Social Security system suffered a shortfall of 0.96% of GDP when it had been projected to break even. The central government's deficit was 3.83%, beating its target of 4.5% by 0.49 % points. The country's municipalities also beat their target of 0.3%, posting a shortfall of 0.2% of GDP.
Including the €40-billion bailout from Spain's European partners to recapitalize the banking sector, the public deficit was 9.99% of GDP.
Montoro said there would be no need for new budget measures this year despite the fact that the European Commission estimates the deficit will rise to over seven percent next year in the absence of further fiscal adjustments.