Telefonica shows signs of Spanish turnaround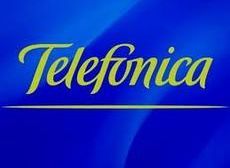 Spain's Telefonica, Europe's biggest telecoms provider, showed signs of a turnaround on Thursday in its battered home market after a painful restructuring and shelved plans to float Latin American assets as a result of successful debt reduction.
The carrier, which has been battling recession for over a year in its domestic market, boosted its Spanish operating cash flow for the first time in four years as it successfully targeted customers with value-for-money deals.
In contrast to Deutsche Telekom, the euro zone's 2nd biggest telecoms company - which disappointed investors with the scale of its investments to hang on to customers in its home market Germany - Telefonica has gone down a different path.
Instead of spending furiously on subsidizing smartphones to keep its more affluent customers tied into multi-year contracts, Telefonica stopped smartphone subsidies last year and saved €500 million as a result, according to Telefonica Europe Chief Executive Eva Castillo.
A new offering packaging fixed-line, mobile, broadband and TV services has attracted 1.5 million customers since its launch in October and is "a clear commercial success", Telefonica said.
Many rivals in Europe's crowded and mature mobile markets are adopting a more defensive approach, hoping to squeeze more money out of the data services that smartphone users increasingly favor over their former cash cow, voice calls.
Deutsche Telekom, whose German domestic market is the euro zone's strongest major economy, is stepping up investments to shore up its customer base in Germany, which accounts for 39 percent of its revenues.
The company posted a drop in Q4 core profit that missed analysts' expectations, although it said it still expected an increase in core profit this year.
"We are going on the offensive - with extensive investments in networks and in the market," outgoing Chief Executive Rene Obermann said in a statement.
Telekom Austria, which reported better-than-feared results, has also said it will need to make substantial investments to defend its market share at home, despite a consolidation of the Austrian market to 3 in January.
IRISH WRITEDOWN
Europe remains a tough market, with 3 or 4 telecoms operators in most countries, a prolonged economic crisis and active pro-consumer regulation that has been forcing carriers to cut prices and fees.
Telefonica's Latin American sales overtook its European sales for the first time last quarter, while the only 2 of Deutsche Telekom's European markets to grow, excluding its British joint venture, were Poland and Hungary.
Telefonica reported lower-than-expected net profit due to a surprise writedown of €527 million on its Irish unit, earning €3.9 billion in 2012 instead of the expected €4.4 billion.
Its overall operating income before depreciation and amortization (OIBDA) grew 5% to €21.2 billion and sales slipped 1% to €62.4 billion in 2012, broadly in line with estimates.
The company reiterated it would pay a dividend of €0.75 per share for 2013 after scrapping it last year for the first time since the Spanish Civil War as part of a cash-raising drive as it grapples with net debt of €51.3 billion
Telefonica forecast revenue growth and lower operating margin erosion for 2013 and said it had scrapped plans to float its Latin American businesses, something it had previously considered as a way to raise up to €6 billion.
"There is not going to be an IPO of Latin America...This is not a priority anymore," Chief Executive Cesar Alierta said, adding that the company had achieved sufficient "financial flexibility" through asset sales in 2012.
Telefonica narrowly missed its net debt to operating income target ratio of 2.35 for 2012 - although not by enough to endanger its prized investment-grade rating - and said it targeted debt of under €47 billion in 2013.
But investors focused on the faster-than-expected Spanish turnaround, sending Telefonica shares up €2 - €10 by market close, against a flat European telecoms sector.