Spanish Motor Vehicle Production up in January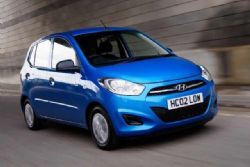 The Spanish Automobile and Truck Manufacturers' Association - ANFAC - have issue their monthly report detailing how the month of January saw an increase in the number of motor vehicles being produced in Spain.
In January 2013 production was seen to have increased by 11.9% compared to the same month in 2012, to reach a total of 179'096 units.
By the end of the month passenger car production increased by 13.4% year on year to 138.066 units, while the production of commercial vehicles increasing by 11.2% year on year, to reach 36,615 units.
ANFAC went on to report how Spain's vehicle exports started the year on a positive note, with an increase of 12.2% compared to January 2012 reaching 151,125 vehicles. Of all exports the number of passenger vehicles increased some 12.9% compared to the same period last year to reach 113,160 units.
Last Month PM Mariano Rajoy agreed to extend the 'Plan PIVE' - a €150 million Government backed scheme which offers a subsidy of €2'000 to anybody exhanging a car over 10 years old for a new vehicle.