Fabra shuffles his feet over Castellon Airport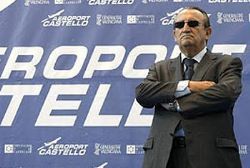 The President of Aerocas, the current concession holder of Castellon Airport, has hit back at comments made by the Minister of Tourism for the Generalitat Valenciana concerning the opening of the facility.
When asked to confirm comments made by Maximo Buch yesterday that the airport will be operational on October 16th, Fabra simply replied that the Generalitat must be party to information that Aerocas have not seen. He also retorted that deadlines had been set previously, but not achieved.
Fabra's stance of late has seemingly become more and more defensive of his position and role at the airport, and belligerent towards the press. Questions relating to the financial waste at the airport, opening dates or if the sale of the facility will actually come to fruition, have all drawn outbursts from the President of Aerocas.
However one thing that Fabra would commit to was to announce that the airport 'would be in a position to open by March 7th'. His words, seemingly chosen to be interpreted in different ways.
One thing the President has confirmed this week, is that there are still no firm agreements with any airline in place at Castellon Airport.
Read further Castellon Airport news by clicking the link >> HERE <<.