Spanish Blue-Chip Company profits at 10 year lows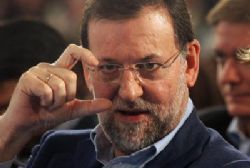 The earnings of the companies that make up the blue-chip Ibex 35 index last year fell to their lowest level since 2002 as the domestic economy slipped back into recession for the 2nd time in4 years.
Listed companies as a whole were in the red for the first time ever as a result of the massive €19-billion loss reported by nationalized bank Bankia.
The earnings of the Ibex 35 companies in 2012 amounted to €14.08 billion, less than half the amount posted in 2007, the year before Spain entered its worst recession in living memory. Revenues increased by 6.6%, while combined operating profit declined by 31.7%.
If it had not been for the contribution of the overseas businesses of geographically diversified companies such as telecoms giant Telefσnica, the situation would have been much worse.
Seven companies in the Ibex 35 posted losses last year, including building and services groups ACS, Sacyr and Vallehermoso.
After booking a loss of €1 Bln in 2012, FCC on Friday said it plans to divest a minimum €2.2 billion in assets it holds in the energy, real estate and telecommunications businesses through to 2015. The proceeds will be used to reduce its debt by between €2.4 and €2.6 billion. As a result it sees its revenues falling to €9.2-€9.7 billion from the €11.152 billion it booked last year.
ACS, which lost close to €2 billion last year after selling a 12% stake in power utility Iberdrola at a loss of €1.312 billion, is also planning further deleveraging. It said Friday it plans to reduce its financial debt to €3 billion this year from almost €5 billion at the end of 2012.
However, including assets that it has put up for sale, total debt last year was closer to €8 billion.
Sacyr lost €977 million last year after writing down the value of its stake in oil company Repsol after the sharp fall in the oil company's price following the nationalization of its Argentinean unit YPF. Without provisions, the company would have made a profit of €90 million.
Despite the loss of YPF, Repsol's net profit last year fell by only 6.1% to €2.060 billion as a result of a writedown in the value of its reserves. Earnings were underpinned by its exploration and production division, whose operating profit climbed 56% to €2.208 billion.
The Ibex 35 company that had the biggest turnover last year was steel giant ArcelorMittal with revenues of €65.533 billion, followed by Telefσnica with €62.356 billion and leading bank Santander with €59.023 billion.
Telefσnica was the biggest earner with net profit of €3.928 billion. Iberdrola made €2.840 billion and Santander €2.204 billion.
Outside the Ibex 35, real estate companies continued to show the dire state of the sector after a massive property bubble burst around the start of 2008. Colonial lost €1.129 billion after a profit a year earlier of €15 million. Earnings were undermined by a provision of €419 million for its unit Asentia, which Colonial has been trying to sell for almost a year. The company has to renegotiate debts of €3.625 billion this year.
Reyal Urbis, which last month filed for receivership in the second-biggest failure in Spanish corporate history, made a loss last year of €910 million, after a loss in 2011 of €374 million. Its revenues declined by 58.5%.
Martinsa Fadesa, which has emerged from receivership after the biggest ever corporate failure in Spain, suffered a loss of €582 million, an almost identical figure to that of last year.