EU sticks to minimal Bankia share valuation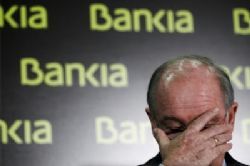 EU regulators will order shares of Spain's Bankia be valued at just €0.01 each, a European Commission source said, meaning shareholders including thousands of ordinary Spaniards will be hit hard in a debt-for-equity swap to boost the bank's finances.
Bankia's minimal valuation is being disputed by Spanish authorities, which had been seeking a €0.10 per share valuation, sources familiar with the matter told Reuters last week.
The figure is crucial as the rescued bank prepares to swap debt into shares as part of a €10.7 billion capital hike, affecting hundreds of thousands of small investors.
"The share price has to be the minimum under Spanish laws for share prices," said the source, who declined to be named because of the sensitivity of the matter.
The source said the European Commission set out the principle, but not the figure, in Bankia's restructuring plan approved in November last year after its billion-euro rescue.
"We never adjust restructuring plans unless financial stability is at risk. Equity holders have to contribute," the person said.
According to Manuel Conthe, a former chairman at Spain's Securities and Exchange Commission (CNMV) who is now at Madrid-based law firm Bird & Bird, the minimum nominal price for shares under Spains Stock Exchange listing requirements is €0.01.
"This applies not only to new shares in IPOs but also to existing shares," Conthe said.
EU Commission spokesman for competition policy, Antoine Colombani, declined to comment on Bankia's valuation but said: "The decision on Bankia's restructuring still applies."