IAG's February traffic falls due to Iberia strikes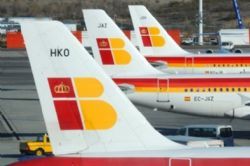 International Airlines Groupp (IAG) posted a 2.4% fall in February traffic, as strong growth at BA failed to make up for weakness at Spain's Iberia following a series of strikes.
Traffic, measured in revenue passenger kilometres, slid 2.4% versus February 2012, while passenger load factor - a measure of how well it fills its planes - was up 1.6 percentage points at 75.2%, it said on Tuesday.
IAG said its 1st and business-class travel - the most profitable part of its passenger business - rose 0.2%, while non-premium traffic fell 2.9%
Showing the drag from Iberia, the update showed that BA' February traffic was up 5.3% compared to a 20.6% fall at Iberia.
IAG has seen worsening economic conditions in Spain hit its performance in recent months, undermining strength in long-haul travel out of London. In February, Iberia cabin crew and ground employees' unions went on strike for 5 consecutive days.
Thousands of workers facing pay and job cuts at loss-making Iberia staged a second wave of protests on Monday that could ground nearly 1,300 flights this week.