Corvera and Paramount 'divert funds from local entrepreneurs'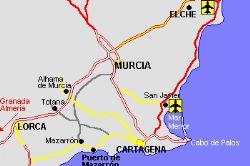 The secretary general of the PSOE in Murcia, Rafael González Tovar, today called upon the regional government to implement a 'Regional Plan of Microcredit' to offer low interest, long-term loans of between €2,000 and €20,000 to encourage the creation of new enterprizes.
Tovar added that such small businesses should be offered a reduction in certain taxes and other administrative costs, and a reduction of 50% in social security contributions.
He compared his proposal as being of equal importance as the region's €200 million loan to support for Corvera airport, and the €20 million loan for the Paramount Pictures theme park project.
Tovar estimated that less than quarter of the sum set aside for these projects - €40 or €50 million - would create thousands of employment opportunities.
The Socialist agreed that both Corvera Airport and the Paramount project would bring the region thousands of jobs, but that this comes with a high investment of capital, a certain amount of risk, and with the results only becoming apparent when each project nears completion.
A date for the opening of Corvera Airport is yet to be announced, whereas work has not yet commenced on the Paramount theme park.
At least a small loan to an ambitious entrepreneur carries neither the risk nor complications seen to date elsewhere in the region.