Iberia workers occupy T4 Barajas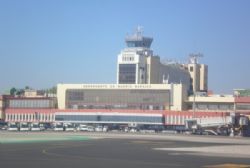 Thousands of Iberia employees occupied T4 of Madrid Barajas airport on Monday morning as they started another 5-day strike to protest the loss-making airline's plans to lay off some 3,800 workers, about 19% of its workforce.
This week's stoppages will cause the cancelation of an estimated 1,300 flights, including those of other carriers that use Iberia's ground handling services. Iberia said it managed to find alternative flight arrangements for 95% of the passengers affected by the strike on Monday.
Cabin crew and ground handling staff held their first 5-day stoppage last month and in the latest industrial action were joined by the airline's pilots. Another 5-day stoppage has been called for the period March 18-22.
Justo Perla, the president of the pilots' union Sepla, reiterated claims that BA, which merged with Iberia at the start of 2011 under the holding company IAG, plans to dismantle the Spanish carrier to get its hands on its assets on the cheap. The layoffs "are only the first part of the plans IAG has for Iberia," Peral said.
Labor unions and Iberia's management have agreed to non-binding arbitration in their dispute. The mediator, university professor Gregorio Tudela, is due to deliver a report this week. Spokesman for Iberia maintenance workers union Asetma, Miguel Ángel Jiménez said. "If the mediator does a good job and Iberia doesn't accept it, the calendar for the stoppages will be extended to Easter week."
Prior to occupying T4, police estimated that some 4,000 workers held a protest march that began in Iberia's industrial installations and ended in the terminal where they met up with other protesters that had gathered at the airport. The police said the protest at terminal lasted for some 2 hours, with no incidents reported.