Spain pressing ahead with independent fiscal authority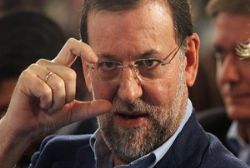 Spain's government on Friday said it was moving ahead with the creation of an independent fiscal authority, which will monitor public spending and the country's budget, a move which could help winning leeway from the EU to ease deficit cutting targets.
Such an authority is a long-standing demand from the European Commission in order to better keep tabs on central and regional finances and regain investor confidence after the country's deficit figures were revised several times last year.
Spain's gaping deficit and its struggle to keep overspending by its autonomous regions under control put it at the centre of a growing euro zone crisis last year, as investors demanded big premiums to buy Spanish sovereign debt, putting pressure on the country's finances.
Through deep spending cuts, reforms and tax hikes, Spain has since managed to ease the problem, and beat forecasts for this year as it closed out 2012 with a deficit 6.7% of GDP. This was still above a 6.3% target for the year, however.
Spain is supposed to shrink its deficit to under 3% in 2014, although the country could get an extension from the European Commission, relaxing the calendar.
The plan approved by the government on Friday is still at an early stage but Deputy PM Soraya Saenz de Santamaria said it would likely become law in the next few weeks.
The new fiscal authority's main task would be to analyse the government's spending and issue public recommendations and reports. However, it will not be granted powers to enforce rules to control and correct any slippage.
"It will be a public entity...that will have full autonomy and independence to guarantee that (the country) respects the principle of budgetary stability. It will not be subject to the government's instructions," Saenz de Santamaria said at a news conference after the weekly cabinet meeting.
"This answers European demands," she also said.
The EU executive is due to review Spain's deficit-cutting path by May.