Castellon Airport offer could still be rejected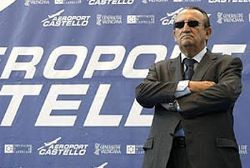 Carlos Fabra, the colourful and controversial President of Aerocas - the concession holder of Castellon Airport - commented yesterday that the company behind the bid to buy the facility must prove a "moral certainty" by next week.
Fabra, who was also previously the President of the PP for the Province of Castellon, used the phrase to describe how the Spanish-Libyan investment group behind the offer to buy the airport, must supply evidence of being creditworthy by their Bank in the course of the next few days.
Fabra also said how, if the buyers submitted a formal offer to buy the Airport for even €250 Million without a Bank Guarantee, it would be rejected.
Last month it was announced that the deadline for deadline for completion of the sale was to be extended from the end of February until the end of March in order to allow the buyers more time to get their finances in order before submitting an official bid.
Read further Castellon Airport news by clicking the link >> HERE <<.