Santander Sells Troubled Loans As Prices Plummet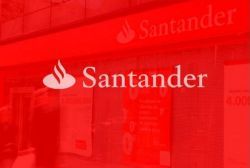 Spanish lender Santander has sold a package of €300 million of troubled consumer loans to a U.S. hedge fund at a massive discount, the latest sign that Spain's banks are increasing efforts to clear their books.
Elliott Management, a fund that specialises in buying distressed assets, paid €12 million for the portfolio, for a 96% discount, a source with knowledge of the transaction said on Thursday.
Elliott and Santander declined to comment on the deal.
It was the latest in a string of heavily discounted disposals by Spanish banks, which are starting to shift problematic assets as they clean up their books after taking a big hit from writedowns on soured property deals last year.
In particular, portfolios of consumer credits gone bad have been among the easiest to sell, as the loans are unsecured and offer banks a lesser chance of recovering money or assets from struggling borrowers and the banks are willing to part with them for small amounts.
Troubled consumer credits, particularly those that have been in arrears for 12 months of more, are also often already provisioned for at 100%, easing the pain for the banks selling them.
"We're seeing more of these deals happening now, whether it's consumer loans, loans to small businesses or credit card portfolios. These are often completely provisioned for or already off banks' balance sheet," said a Madrid-based investment banker advising on such transactions.
"REAL SPECIALISTS"
Mid-sized lender Liberbank in February sold €574 million worth of failed loans for 3.7% of face value to another U.S. fund, Cerberus.
International funds such as Lone Star and Fortress are also among those circling assets, including portfolios of mortgages, several bankers said.
Distressed debt funds can make money on the assets, in part because they buy them so cheaply. They can offer struggling borrowers deals, such as writing off the remainder of a loan in exchange for a small upfront repayment, when banks cannot, said another banker familiar with such deals.
"These funds are real specialists in handling these assets. They can also take their time about it, which helps them recover money over the long term," said the banker, who declined to be named because of the sensitivity of the transactions.
Elliott, which has some €20.7 billion in assets, is not known, at least publicly, to have completed many such purchases in Spain yet.
The fund is best known for its aggressive legal tactics against countries whose debt it has bought cheaply. In particular, it has waged a long-running battle against Argentina to get money back after buying debt the country defaulted on in 2002.