Spain will not merge nationalised banks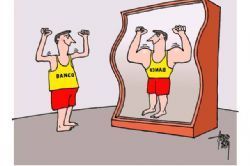 Spain's Minister for the Economy, Luis de Guindos, has rejected merging the country's 3 fully nationalised banks after an auction attempt failed, and as the government seeks a way to privatise them by an EU-imposed deadline of 2017.
Spain has been looking into a full or partial merger of rescued Bankia and Catalunya Banc, 3 sources with knowledge of the matter told Reuters last week, after the sale of the latter collapsed when offers fell short of expectations.
A 3rd lender, NCG Banco, based in the north-western region of Galicia, is fully owned by bank restructuring fund FROB.
"We have 3 banks 100% owned by the FROB, and logically there will be a coordination of plans between the three," Economy Ministry Luis de Guindos said in an interview with Spanish television on Monday.
"They will absolutely not be merged," he said.
The banks are three of the biggest casualties of Spain's property market crash 5 years ago.
The government has rescued them over the past 18 months. In mid-2012 it asked Europe for €41 billion in part to help deal with their losses. The 2017 deadline was set as a condition for receiving the aid from Brussels.
One option being considered it to house ownership of Catalunya Banc and Bankia under one holding company, sources said last week.
That would avoid any issues with a full-on merger of their operations, which could entail another round of negotiations with Brussels. NCG Banco could eventually come under that umbrella too, according to local media reports.
The head of FROB, Antonio Carrascosa, told El Pais newspaper on Sunday that it had hired an adviser to study options for its stakes in the 3 banks.