Spain in talks to rescue struggling toll roads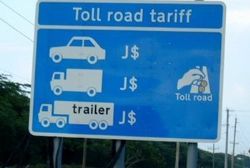 Spain is trying to find a way to rescue 10 financially-troubled toll road concessions without adding to the country's budget deficit, a transport sector source with knowledge of the situation said on Monday.
The toll roads, built during Spain's construction boom before the 2008 financial crisis, have run into financial difficulties because of the country's recession.
The roads, many of them near Madrid, never saw the level of traffic they had expected and have run up debts of more than €3.5 billion, according to estimates in the Spanish press.
The Public Works Ministry is in talks with banks and toll road operators on a solution, the source said.
"The talks are looking at a series of options including creditors assuming losses," the source said. The source also said the ministry would create a holding company to absorb the concessions.
The source said the government would only take action that did not increase Spain's budget deficit, which came in at 6.7% of economic output in 2012, overshooting a target of 6.3%.
"They are bending over backwards to look for a solution to the problems faced by the toll roads - some have started insolvency proceedings - while at the same time trying to avoid increasing the national deficit," the source said.
Shareholders in the toll road concessions include major Spanish companies Abertis, Acciona, ACS, Bankia, Ferrovial subsidiary Cintra, OHL and Sacyr Vallehermoso.
A ministry spokeswoman said the ministry continued to study different ways to guarantee the sustainability of the toll roads.
Media reports on Monday said the government hoped to secure a €1.2 billion credit line from banks for the roads.