Spain's cost of borrowing falls to 3-year low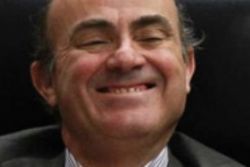 Spain's one-year borrowing costs tumbled to their lowest level since the Greek debt meltdown in 2010, at an auction on Tuesday where the government sold more bills than it planned.
The Treasury sold €5.8 billion of 6- and 12-month treasury bills on Tuesday, beating its targeted amount of up to €5.5 billion and with average yields on the 6-month paper falling to levels not seen since February 2012.
"It was a very positive auction, with strong underlying demand... with lower yields. What more can you ask for?" said Jose Luis Martinez, Madrid-based strategist for Citi.
The story was different on Tuesday in Italy, where that country's government saw one-year borrowing costs rising to their highest since mid-December at the first debt sale after Fitch's downgrade of its sovereign rating to BBB-plus.
Spain has been under intense scrutiny amid fear a deep recession and high deficit are unsustainable, however a pledge by the ECB to buy debt of troubled euro zone members has helped to create a backstop against a mass sell off.
Renewed focus on troubled periphery economy Italy after an inconclusive election end-February has benefitted Spain's debt market, with the spread between Spain and Italy's 10-year benchmark bond falling to levels not seen in over a year.
On Tuesday, Spain sold €3.9 billion of 12-month bills at an average yield of 1.363%, after a yield of 1.548% in February, and was 1.9 times subscribed, after 2.0 time a month earlier.
The yield on the 12-month paper was the lowest since April 2010, right before an international rescue was announced for Greece after its debt costs became unsustainable.
Spain sold €2.0 billion of 6-month bills at an average yield of 0.794%, compared to a yield of 0.859% a month earlier, and a bid-to-cover ratio of 3.2 above the 2.9 seen in February.