Spanish Airports to Introduce 'Trolley Tax'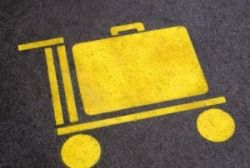 Following on from last year's hike in airport taxes, the Spanish Airports Authority - AENA - seems determined to squeeze even more money from tourists visiting the country.
Following positive news in the press over recent weeks that Spain is set to expect a record number of visitors in 2013, and how Spain has been found to be the 4th most competitive Holiday destination in the world, AENA have announced they are to implement a "Trolley Tax" at the country's most popular airports.
A fee of €1 is to be charged for the use of trolleys at Madrid's Barajas airport, followed by Tenerife South, Alicante, Barcelona's El Prat airport, Palma de Mallorca, Malaga and Gran Canaria.
AENA's justification for this being that they are simply trying to recoup some of the €3.5 Million per year that the trolleys cost.
As with their justification for last year's hike in airport taxes, AENA also claim that this charge is still cheaper than other major airports within the EU.
There are just 2 issues that AENA may like to consider here :
1) Last year AENA reported that for FY2011 just 10 of their airports were profitable . Not one of the unprofitable airports has plans to implement this charge - seemingly happy for these airports to continue making a loss. Surely addressing the issue of airports losing money should be of greater importance than squeezing more money out of those which are profitable ?
2) It is no secret that in the current economic climate the Tourist Industry is perhaps the one beacon of hope. Surely there is more to be lost in goodwill and bad press by implementing this charge than there is to be gained by taking advantage of the record number of tourists expected this year ?