SAREB to sell €1.5 billion of assets in 2013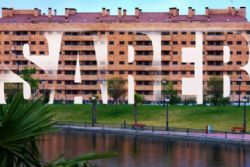 The vehicle for cleaning up Spain's banking system after a property crash aims to raise €1.5 billion by selling troubled real estate assets this year, Economy Minister Luis de Guindos said.
The 'bad bank', also known as SAREB, currently has 200,000 assets worth €50.5 billion on its books, which it received at a discount from nationalised and state-rescued lenders.
It has started to sell some properties but uncertainties over its business plan, which de Guindos said was now being revised, have interfered in the process.
De Guindos denied the scheme had been ill-conceived and said the revision of the business plan was necessary because the detail of these assets was not known until recently.
"(The bad bank) Sareb and its management foresees asset sales worth €1.5 billion this year," de Guindos told a parliamentary hearing on Tuesday.
"The revision of the business plan foresees a specific strategy for each kind of assets depending on its nature and quality."
In total, SAREB received 76,000 empty homes, 6,300 rented homes, 14,900 undeveloped land, 84,300 loans and 6,200 credits at an average discount of 52%, de Guindos also said.