Orange and Vodafone to build Fibreoptic network in Spain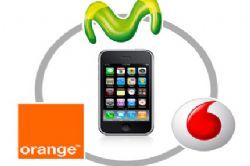 Orange and Vodafone will invest up to €1 billion in a joint fibre optic network in Spain that will bring superfast Internet to 6 million homes, the telecom industry rivals said on Wednesday.
Both companies are struggling to compete with the fibre optic network of Spanish former monopoly Telefonica, which reaches 2.2 million homes.
Orange said in June it would build a fibre optic network and since then has set up a pilot scheme, although it does not yet offer ultrafast broadband to customers.
"The fibre optic market in Spain is very deficient in terms of competition and could end up ... a monopolised market if this is not corrected," said Orange Spain Chief Executive Jean-Marc Vignolles at a news conference in Madrid.
Vodafone has come under pressure in recent months from some analysts to acquire fixed-line assets in Europe to help compete with groups like Telefonica which offer customers bundles of mobile, fixed-line telephony, broadband and pay-TV.
That trend has helped some operators to boost customer loyalty and increase revenues at a time when European consumers are otherwise cutting back on spending.
The Spanish plan would help Vodafone sidestep the need to acquire such assets, an analyst said.
STILL COMPETITORS
The project would consist of two complementary networks, each reaching around 3 million buildings throughout 50 cities in the country, Orange and Vodafone said. They would be open to third-party participation in the project.
Commercial offerings from both firms will be completely separate, Vodafone Spain Chief Executive Antonio Coimbra said.
Vodafone and Orange said they would guarantee mutual access and use of the infrastructure.
However, they also said they would need to reach an agreement with Telefonica on the vertical integration part of the network - the final section that is expensive to complete.
Orange's Vignolles said that if Telefonica did not wish to cooperate, the two telecom companies would take the matter of prices and access conditions to the telecoms regulator. They said they would go ahead and install cables to complete the integration in case of long delays.