Spain to revise economic forecasts in April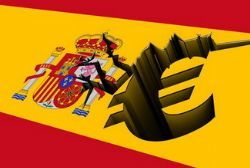 Spain will revise its macroeconomic forecasts for 2013 in April, Economy Secretary Fernando Jimenez Latorre said on Wednesday.
Jimenez Latorre declined to say which of the figures would be updated.
Spain's government expects gross domestic product (GDP) to contract by 0.5% year on year in 2013, below consensus which forecasts output to fall by around 1.5%.
This seemingly contradicts a report published yesterday by Professor Alfredo Pastor fom the Economics and Banco Sabadell Chair of Emerging Markets at Madrid' IESE Business School. The Preofessor went on to give 5 reasons as to why it was fair to expect a recovery of the Spanish economy in 2013.