Competition heats up in Spain's mobile phone market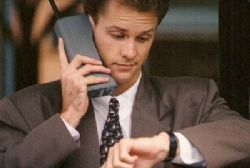 Competition among cellphone operators in Spain intensified in January with a record 633,616 cash-strapped users switching mobile companies in search of cheaper offers, data from telecoms regulator CMT showed on Friday.
Another quarter of a million mobile customers abandoned their cell phones entirely in January, the 6th consecutive month of lines being terminated as rising unemployment and a deepening economic recession hit Spaniards.
Spain's Telefonica and Britain-based Vodafone each lost over 100,000 mobile clients to cheaper operators like Teliasonera's Yoigo and so-called virtual mobile operators.
Virtual operators have no infrastructure of their own but rent capacity from established providers, selling services on to consumers.
Telefonica fared better with its internet service, adding 27,920 lines in January thanks to a competitive bundled internet, phone and TV package, but was still behind alternative internet operators, which added 30,090 lines.