Fabra speaks of Castellon Airport offers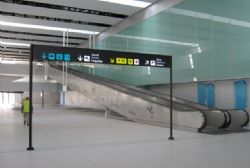 Carlos Fabra, President of Aerocas, has given further details of the offers recieved for the bids to operate Castellon Airport.
Aside from the Hispano-Libyan offer, Fabra confirmed that the concession-holder of the airport was also considering an offer from an American-Arabic consortium.
He maintained that he was happy to commit to the Libyan offer, which has been reported in the press since the start of the year, but only on the understanding that it came with a viable Bank Guarantee.
The self-imposed deadline of competition of the deal by the end of February was extended until the end of March, fuelling rumours that the Hispano-Libyan offer had run into funding difficulties.
However, the 99% shareholder of Aerocas - the Generalitat Valenicana - will hold the final decision in which offer to finally accept.
" Six Months of Lies and Bullshit "
What is clear is that the airport will eventually sell at a loss : Even though the Libyan deal initially offered €200 Million, the costs associated in making the infrastructure fit for sale would mean that the facility eventually sold at a net loss of €67.5 Million to the region's taxpayers.
Furthermore, it raises the question as to whether the "end of March" deadline will be extended yet again.
Read further Castellon Airport news by clicking the link >> HERE <<.