Earthquake felt in Valencia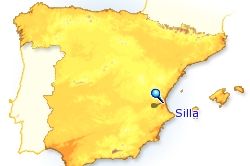 Residents of the Town of Silla, Approximately 12km to the South of the City of Valencia, felt an earthquake this morning.
The website of the National Geopgraphic Institute (IGN) recorded a seismic event shortly after 09.30 AM, with an intensity of 2.5 on the Richter scale, and at a depth of 11km.
There have been no reports of injuries or significant damage to property.
Unlike the recent earthquake swarm in Jaen, Andalucia, the tremor seems to have been a 'stand alone' activity, with ther having been no recorded activity in the region for a number of weeks.
The population of the City of Valencia usually stands at around 1 Million residents, however numbers swell to as many as 3 Million during the popular annual "Las Fallas" Fiesta, which began on Thursday of last week.