Spain's 2012 Public Debt Advances 20%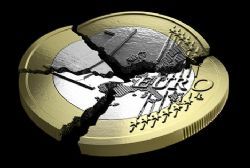 Spain's public sector debt surged 20% last year as the government sought EU aid for its banks and backstopped the nation's municipalities as well as its tax-funded pensions and jobless-benefit systems.
Borrowings rose to €884.4 billion at the end of December from €736.5 billion a year earlier, according to the Madrid-based central bank's estimate. That represents 84.1% of GDP, up from 69.3% a year earlier and 77.3% in Q3. It is less than the European Commission's forecast of 88.4%.
Spain's debt load will beat the euro-area average for the first time in the currency's history this year and top 100% of output in 2014, the commission says. Rated one to two steps above junk by three rating companies amid a 6th year of slump, the region's 4th-largest economy has so far avoided a full bailout, helped by ECB support.
The central government accounted for most of the debt, while the 17 semi-autonomous regions generated €185 billion, up 11% from the previous quarter. Spain's more than 8,000 town halls' debt was €42 billion and the state's Social Security welfare system €17.2 billion, data released on the Bank of Spain's website showed.
The yield on Spain's 10-year benchmark bonds was unchanged at 4.87% on Saturday morning in Madrid, compared with a euro- era high of 7.75% in July, before the ECB stepped in to backstop the euro.