Ryanair flight "forgets" to request landing permission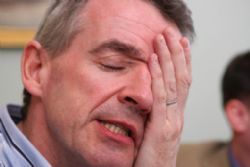 Ryanair has been slammed by saftey official after Pilots "forgot" to ask the control tower for permission to land at Alicante's El Altet airport.
The incident took place in January of 2011, when a Dutch Pilot was in charge of a flight of 174 passengers flying from East Midland Airport in the UK.
The crew only realised their oversight when they realised that the night landing lights had not been switched on as they taxied to the gate, the final item in their pre-landing checklist before asking for final clearnace from the control tower.
The Pilot immediately apologised to the air traffic controll team, who said the tower was being supervised by the Spanish military.
On being asked why the crew had not responded to calls by the tower made on the emergency frequency, Ryanair told investigators that the radio had been turned down to avoid to distractions - something which is standard company procedure.
Spain's Civil Aviation Accident and Incident ­Investigation Commission (CIAIAC) last week told Ryanair it had jeopardised the safety of the airport, and also criticised ­the air traffic controllers for their part in the incident.
Despite aviation regulations demanding that all recordings of flight data are kept for a period of 60 days, the CIAIC found that all voice recordings of the incident had been wiped.
­
The CIAIAC report made 10 safety recommendations including a proposed ban on Ryanair pilots lowering the volume on the emergency frequency, also recommending that the airpline revise its procedures to include clearance from air traffic control on its pre-landing checklists.
A statement by the airline said: "Ryanair notes the CIAIAC ­report into an aircraft landing at Alicante Airport on January 6, 2011, and the recommendations outlined within."
The European Aviation Safety Agency regulator said it would study the report before deciding what action to take.
Meanwhile, the news section of Ryanair's own website dated February 28th proudly announces that the UK's Air Navigation Service has "found Ryanair to be the UK's safest Airline".