Madrid's Olympic bid assessment underway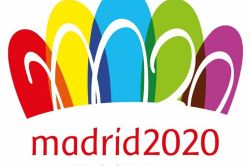 Madrid's application to host the 2020 Olympic Games will come under investigation when the Evaluation Commission of the International Olympic Committee (IOC) visits the city this week to consider the details of the bid.
The delegates arrived in the capital yesterday afternoon, where they attended a reception held by the Mayor of Madrid, Ana Botella and the President of the Spanish Olympic Committee, Alejandro Blanco, before staring their investigation earlier this morning.
The four-day long visit, will be officially brought to a close by Prince Felipe, when he will host a presentation on the 14 themes required by the IOC Candidacy file, as well as visiting the bid venues, many of which have already been built for different events.
The fact many of the proposed venues already exist is one of the main attractions of the Madrid candidacy, and something which the IOC is already familiar with after the city made similar bids to host the 2012 and 2016 Olympics - unsuccessfully.
The city intends to make use of venues such as the Las Ventas bullring, the Caja Magic, where the Madrid Masters Tennis tournament is held every year, while the IFEMA exhibition center will also host events.
This was of interest to the IOC in previous bids, but with Spain now deep in an economic crisis, this could almost be described as the 'austerity' bid with 25 out of the 35 venues already built and the budget for the Madrid 2020 campaign reduced by 25%.
However, the city will have to also convince the IOC evaluation commission that the bid is not just economically viable, but will offer the best Games of the 3 candidate cities : Madrid, Tokyo and Istanbul.
The visit to Madrid follows a successful visit to Tokyo, which was praised for its organization, presentations and the positive attitude shown by potential athletes, and next week they begin their visit to Istanbul, which is currently experiencing a healthier economy than Madrid.
Neither have the public been slow to seize the visit as an opportunity to vent their anger at the on-going austerity cuts being imposed by the Government.
Three days of strike action will be staged by Madrid's Metro workers later this week, whilst employees of the Madrid Club de Campo - which is hoping to host a number of events if the Madrid bid is successful - are also due to strike.
Spain is also following the example set by London in wheeling out David Beckham as a high profile figurehead for their Olympic bid with Real Madrid Captain, Iker Casillas, hosting a tour of the Bernabeu.
Spain will need to wait until September 7th until the location of the 2020 Olympic games is announced.