European car sales fall 10.2 pct in Feb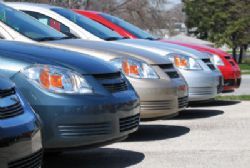 Europe's car market shrank a further 10.2% in February, with sales of new vehicles falling to 829,359, according to figures from the Association of European Car Manufacturers (ACEA).
Sales hit a 17-year low in 2012 and this year is shaping up to be another tough slog for mass-market carmakers as consumers in recession-hit European economies continue to postpone purchases.
Ford's F.M sales dropped at twice the rate of the overall market's decline for a 3rd straight month, dropping 20.8% to 53,660 cars. Ford is cutting back its EU production capacity with 3 plant closures to stem regional losses.
General Motors and Fiat were the next biggest fallers, dropping 20.1% and 15.7% respectively.
Carmakers in Europe are still reeling from a terrible 2012. Mass-market manufacturers lost an estimated $7 billion in the region last year, Fiat Chief Executive Sergio Marchionne said at the Geneva car show this month.
European car sales fell 8.2% to 12.05 million vehicles last year.
Market forecaster LMC Automotive recently estimated that this year's sales would drop 3.1% in western European to 11.4 million vehicles, compared with about 12.8 million and 13 million in 2011 and 2010 respectively.
European market leader Volkswagen saw sales of its core VW brand fall nearly 10% and its luxury Audi brand decline 3.8%.
Only 3brands managed to add sales in February. Korea's Hyundai, usually a bright spot, eked out a 1.4% gain. Mazda rose 13.1% and Honda 27%.
Another bright spot was the UK, where sales rose 7.9%.
"All other significant markets faced a downturn, ranging from 9.8% in Spain to 10.5% in Germany, 12.1% in France and 17.4% in Italy," the ACEA said in a statement.