Catalan politician charged in corruption case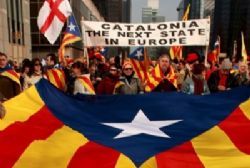 A prominent politician in Spain's northeastern region of Catalonia was charged with influence peddling on Tuesday in a case that could dampen the regional government's drive for independence.
The regional High Court charged Oriol Pujol, son of a former president of Catalonia and considered a likely future regional president, with using political prominence over the assignment of vehicle inspection centre contracts for personal gain.
Five business associates were also charged in the case and Pujol has said the charges are politically motivated to discredit the independence movement.
Pujol is close to Catalan President Artur Mas, who is pushing to hold a referendum on independence from Spain, a drive that the central government in Madrid is trying to block on constitutional grounds.
A number of high-profile corruption cases have come to light recently in Spain, which is in a deep recession and suffering high unemployment. Public tolerance for official corruption and privilege is low at a time when the government has raised taxes and slashed public spending to reduce a high deficit.
Catalonia is one of the wealthiest of Spain's 17 autonomous regions, but crippling debt and a number of corruption scandals involving the ruling Convergence and Union (CiU) political alliance have hit Mas.
"Right now the secessionist movement needs to have confidence in the leadership, and if Mas does not react in a clear way, it can affect his credibility as the leader of that movement," said Salvador Cardus, professor of sociology at the Autonomous University of Barcelona.
The court said in a ruling that Pujol used his political weight to "coordinate, direct and provide the necessary support" to win a government auction of vehicle inspection centers. Although the contracts were not awarded, Spanish law considers a proposal of influence peddling, without its consummation, sufficient grounds for incrimination.
The court will conduct a pre-trial investigation into the charges. No date has been set for Pujol's appearance.
Pujol will keep his seat in the regional Parliament but stepped away from 2 party leadership roles.
"Relinquishing my seat in parliament would be to assume my guilt," he said, adding that he stepped away from some of his duties because he did not want "to slow down the process of national transition" to independence.